Stats: City's Premier League defensive improvement
City moved 10 points clear at the top of the Premier League table on Wednesday with a 3-1 win away at Everton.
City moved 10 points clear at the top of the Premier League table on Wednesday with a 3-1 win away at Everton.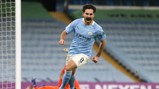 Men's Team
Guardiola gives Gundogan injury update
The result means we set a new English record of 10 consecutive top-flight league wins at the start of a year.
And it also means we have won both top-flight away matches on Merseyside in a single season for the first time since 1981/82.
There's a long way to go this season, but our impressive 10-point lead has been built on a solid defensive platform, with our forward players able to play with creativity and freedom, safe in the knowledge we are secure at the back.
And one look at the figures tells you everything you need to know. Since our defeat to Leicester City back in late September – a game that saw us ship five goals and make a series of errors at the back – we have conceded just nine in the 22 Premier League that have followed.
It's a remarkable number.
For context, the team who have conceded the second least since that time are Chelsea, who have let in 18 – double our tally – with Tottenham third on the list with 21.
PL Since Sept 28
Goals Conceded  
Manchester City
9
Chelsea
18
Tottenham Hotspur
21
Leicester City
22
Aston Villa
24
West Ham United
24
Arsenal
24
Brighton and Hove Albion
24
English Premier League
Team
P
W
D
L
GF
GA
GD
Pts
Form
1

Manchester City
Man City
24 17 5 2 49 15 34 56 WWWWW 2

Manchester United
Man United
24 13 7 4 50 31 19 46 LDWDD 3

Leicester City
Leicester
24 14 4 6 42 26 16 46 DLWDW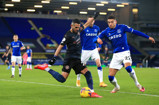 Men's Team
Andy Morrison: One v one Mahrez is the best at City
And in those 22 league matches, we've kept 14 clean sheets, which, again, is a league high during this period.  
PL Since Sept 28
Clean Sheets  
Manchester City
14
Aston Villa
11
Chelsea
11
Manchester United
8
Burnley
8
West Ham United
8
Leicester City
8
Summer signing Ruben Dias has been central to our improvement, having played in 21 of the 22 games since the Leicester defeat. He's brought leadership, pace and stability, having honed his talents in the trophy-winning environment at Benfica. 
And Joao Cancelo, who has played in both full-back positions, has clocked up 19 appearances during that period.
Indeed, Cancelo is perhaps the most exciting story of all - a player who struggled to adapt during his first season at City is now a key part of the tightest defence in the league and considered the most attacking full-back in European football. 
His athleticism and enthusiasm for the game are obvious, but his intelligence is now being widely recognised. He often moves in to central midfield areas during matches, carrying out the nuanced instructions given to him by Pep Guardiola superbly. 
There isn't another full-back in the Premier League playing the way he is. 
Kyle Walker, who has emerged as one the true leaders of the squad, has played 14 times, and John Stones, whose renaissance has been well documented, has managed 13 appearances. 
Sun 21 Feb
Premier League
Arsenal

Man City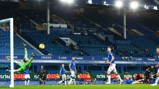 Men's Team
Mahrez hails on-field 'connection' with Bernardo
City's success under Guardiola - who has won eight major trophies since joining the Club in the summer of 2016 - has been built largely on attacking brilliance. 
In the 270 games Pep has been in charge of, we've scored 665 goals! That's an average of 2.46 per game. 
But this season looks like being defined by our ultra-tight defence. 
Discover the secrets behind Riyad Mahrez' balance and movement with our exclusive new documentary Scout on CITY+.
Watch now.