Lincoln City 2-7 Liverpool and more: Carabao Cup third round – as it happened
Liverpool made light work of Lincoln City, hitting seven goals at Sincil Bank to progress to the fourth round, where they will be joined by Manchester City who defeated Bournemouth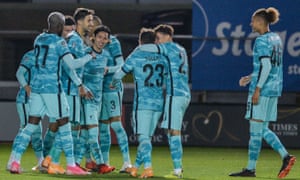 Key events
Show
9.42pm

BST

21:42

Fourth round draw

9.41pm

BST

21:41

Full-time: Manchester City 2-1 Bournemouth

9.34pm

BST

21:34

Full-time: Lincoln City 2-7 Liverpool

9.30pm

BST

21:30

GOAL! Lincoln City 2-7 Liverpool (Origi, 89)

9.20pm

BST

21:20

GOAL! Manchester City 2-1 Bournemouth (Foden)

9.08pm

BST

21:08

GOAL! Lincoln City 2-6 Liverpool (Montsma, 66)

9.06pm

BST

21:06

GOAL! Lincoln City 1-6 Liverpool (Grujic, 65)
Live feed
Show
10.13pm BST22:13
Thank you very much for joining me tonight. Here are the reports:
Manchester City 2-1 Bournemouth
Shkendija 1-3 Tottenham
Lincoln 2-7 Liverpool
Europa League roundup
Bristol City 0-3 Aston Villa
10.05pm BST22:05
I have a lot of time for this photo.
9.59pm BST21:59
Here is Andy Hunter's report.
9.55pm BST21:55
Football clubs need help ...
9.52pm BST21:52
Stats!
9.46pm BST21:46
Curtis Jones: "I thought that we started well. Fair play to Lincoln, they turned up and gave us a good game.
"Whenever I am given a chance I will give 100% and I am just waiting for my turn."
He then picks up his own Man of the Match trophy.
9.42pm BST21:42
Fourth round draw
Liverpool vs Arsenal
Burnley vs Manchester City
Brentford vs Fulham
Everton vs West Ham
Aston Villa vs Stoke City
Leyton Orient/Tottenham Hotspur vs Chelsea
Newport County vs Newcastle United
Brighton & Hove Albion vs Manchester United
9.41pm BST21:41
Full-time: Manchester City 2-1 Bournemouth
City got there in the end thanks to youngsters Delap and Foden. The future is very bright for those two.
9.34pm BST21:34
Full-time: Lincoln City 2-7 Liverpool
It turns out the Premier League champions are better than an average League One team, who knew? Fair play to Liverpool they were at it from the start and did not give Lincoln much of a sniff.
9.30pm BST21:30
GOAL! Lincoln City 2-7 Liverpool (Origi, 89)
Liverpool break through Minamino and he lays it off to Origi who takes aim and slams it across the goalkeeper and into the corner from 16 yards.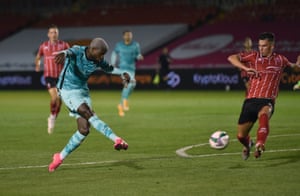 Updated at 9.35pm BST
9.28pm BST21:28
87 mins: Grant swings a corner straight out of play. I think this game is done.
9.26pm BST21:26
85 mins: Things are very quiet at Sincil Bank now. Nothing left to see, really.
9.24pm BST21:24
Tottenham won! David Hytner wrote about it.
9.23pm BST21:23
I am mainly pleased that City scored as now I hopefully won't have to Google whether the game goes straight to penalties or if they have extra-time.
9.21pm BST21:21
BEN FISHER HAS WRITTEN SOME WORDS ABOUT BRISTOL CITY V ASTON VILLA.
9.20pm BST21:20
GOAL! Manchester City 2-1 Bournemouth (Foden)
I am running around with my shirt above my head as Foden taps home after Mahrez's shot bounced off the post.
Updated at 9.26pm BST
9.18pm BST21:18
That's quite funny ...
9.18pm BST21:18
78 mins: Scully sends in a bouncing cross from the right which makes its way to Archibald but his header from six yards out is straight at Adrian.
9.17pm BST21:17
76 mins: Jota almost marks his debut with a goal but he pulls his shot just wide from the edge of the area.
9.15pm BST21:15
74 mins: Liverpool are now just knocking the ball around slowly as it's not worth doing much else.
9.13pm BST21:13
Sterling is on for City, too, now!
9.11pm BST21:11
70 mins: Fabinho hits a low free-kick from just outside the area but it goes just side.
9.09pm BST21:09
Some Europa League action.
9.09pm BST21:09
68 mins: Right goals in a match really is too many.
9.08pm BST21:08
GOAL! Lincoln City 2-6 Liverpool (Montsma, 66)
The model jumps highest in the box to head home a corner off the bar and reduce the deficit in the process.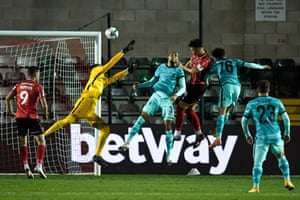 Updated at 9.19pm BST
9.06pm BST21:06
How are things going for Manchester City? They have needed to bring on Kevin de Bruyne to sort stuff out.
9.06pm BST21:06
GOAL! Lincoln City 1-6 Liverpool (Grujic, 65)
And another! Grujic picks up a loose ball on the edge of the area, composes himself and drills it into the corner.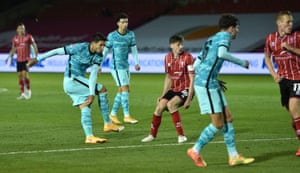 Updated at 9.17pm BST
9.05pm BST21:05
64 mins: Shaqiri flicks the ball through to Tsimikas but his short squirts well wide.
9.02pm BST21:02
GOAL! Lincoln City 1-5 Liverpool (Edun, 60)
Lincoln get their reward for a better second half, as Edun and Scully combine before the latter caresses the ball into the bottom corner.
Updated at 9.08pm BST
9.00pm BST21:00
59 mins: Grant whips in a free-kick for Lincoln which Eyoma jabs a foot at but that only succeeds in sending it well wide.
8.58pm BST20:58
56 mins: Elliott claims he was pulled back in the box by Bradley and demands a penalty but the referee takes pity on Lincoln.
8.54pm BST20:54
54 mins: Jota is stripped and raring to go. Good luck to everyone in the Lincoln defence.
8.52pm BST20:52
Full-time! Bristol City 0-3 Aston Villa
A fine performance from Villa, which should give the team plenty of confidence, especially Traore who scored a fine goal on debut.
8.51pm BST20:51
50 mins: Lincoln have a couple of chances to score but Liverpool hold firm. The ball is then quickly down the pitch to Origi, who cuts in from the left and hits a vicious strike which Palmer palms away.
Lincoln are still trying to play out from the back, which is either brave or stupid. It's a fine line.