Leicester City v Newcastle United: Premier League – live!
Newcastle United thrash Leicester City to move up to 13th in the Premier League, while Leicester's top four hopes take a significant blow.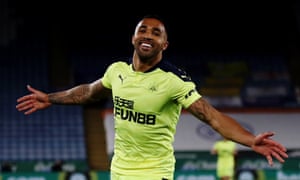 Key events
Show
9.52pm

BST

21:52

Full Time: Leicester 2-4 Newcastle

9.45pm

BST

21:45

GOAL: Leicester 2-4 Newcastle (Iheanacho, 87)

9.38pm

BST

21:38

GOAL: Leicester 1-4 Newcastle (Albrighton, 80)

9.32pm

BST

21:32

GOAL: Leicester 0-4 Newcastle (Wilson, 74)

9.23pm

BST

21:23

GOAL: Leicester 0-3 Newcastle (Wilson, 64)

8.50pm

BST

20:50

Half Time: Leicester 0-2 Newcastle

8.36pm

BST

20:36

GOAL: Leicester 0-2 Newcastle (Dummett, 34)
Live feed
Show
10.21pm BST22:21
That's all from me today. Thanks all for following along and enjoy the weekend of football ahead.
10.19pm BST22:19
Steve Bruce on his team's recovery:
"We were disappointed last week against Arsenal but once the big players returned over the last two months, we've lost, I think, two in 10. The performances and the big players getting fit, of course, makes a difference. We've struggled a while with Covid, illness and people being injured. You can see the difference and that's been a real, major change."
10.15pm BST22:15
Here is Paul Doyle with his match report.
A great lede: "Five years to the day since Andrea Bocelli serenaded Claudio Ranieri's title winners at the King Power, Leicester hit an almost unbelievable bum note."
10.13pm BST22:13
Callum Wilson, the clear man of the match:
"I just feel a few results, it's like a domino effect really. The boys have got a lot of confidence and we're playing with a little bit more freedom, creating that cushion between us and the bottom of the league. Nothing to lose, everything to gain tonight and we had a nice incentive tonight. We got three points, we managed to be safe."
10.07pm BST22:07
10.06pm BST22:06
Joe Willock on Sky:
"I'm learning every day. Coming here was a big step for me in my career. Going away from London and going away from my boyhood club was a big move for me, it wasn't easy. To come here and to be welcomed by the lads so easily and learn so much from all the staff members and the manager, I've been delighted. It's a blessing and I'm happy I can contribute with my goals."
10.03pm BST22:03
This week's most popular shots