Leicester City 1-3 Arsenal: Premier League – as it happened
Arsenal handed Leicester an early goal but came back well to win easily; they move up to 10th in the table while Leicester, who lost Harvey Barnes and Jonny Evans to injury, stay third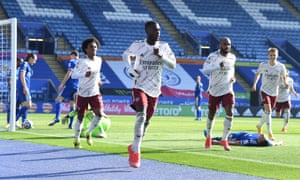 Key events
Show
1.59pm

GMT

13:59

Full-time: Leicester City 1-3 Arsenal

1.15pm

GMT

13:15

GOAL! Leicester City 1-3 Arsenal (Pepe 52)

12.50pm

GMT

12:50

Half-time: Leicester City 1-2 Arsenal

12.48pm

GMT

12:48

GOAL! Leicester City 1-2 Arsenal (Lacazette pen, 45+2)

12.47pm

GMT

12:47

45+1 min PENALTY TO ARSENAL!

12.41pm

GMT

12:41

GOAL! Leicester City 1-1 Arsenal (David Luiz 39)

12.16pm

GMT

12:16

14 min NO PENALTY TO ARSENAL!
Live feed
Show
2.28pm GMT14:28
Righto, that's that on that – stick with us for the rest of the afternoon's football. Thanks all for your company and comments, sorry I didn't get to use them all. Ta-ra and enjoy the rest of the weekend.
2.27pm GMT14:27
Here's Barney Ronay's match report.
2.24pm GMT14:24
Back to LeBron, it really is horrendous that he should have to justify his credentials to fight the self-evident oppression and injustice of his people. But here he is.
2.23pm GMT14:23
Brendan Rodgers says it's a disappointing result and his team looked tired, but it's only one game. They knew Arsenal would have more of the ball - why? – but didn't take the ball enough. He says Arsenal got a bit of luck with how the ball dropped for their third goal and credits his players for the way they kept going; I wonder if he really thinks that, because there was no conviction in their work. He's then asked what he'd change about today; "Probably the score."
Indeed.
2.20pm GMT14:20
We were talking about sportsmen taking the knee earlier; this is worth reading on the frankly awful nonsense Zlatan Ibrahimovic spoke about LeBron James.
2.17pm GMT14:17
While, in the WSL, Arsenal are drawing 0-0 at Villa. You can follow that one here:
2.17pm GMT14:17
Meanwhile, early goals from Gareth Bale – turns out he's quite good at football, who knew? – and Hazza Kane have put Spurs 2-0 up on Burnley. Follow that one here:
2.15pm GMT14:15
Elsewhere, Palace and Fulham have drawn 0-0.
2.14pm GMT14:14
Arteta is "really proud" of his players, and the "character and personality" they showed, especially when Leicester got the game they wanted: an early goal that allowed them to sit back. He says he didn't have to rotate but he wanted to give a chance to the players who hadn't played midweek because they deserved it. He reckons his senior players "need to drive the boat", not the young players, and says Smith Rowe has a muscular injury but doesn't think it's anything too serious.
2.08pm GMT14:08
Lacazette says Arsenal need some consecutive wins to get up the table and is particularly pleased with how the team reacted to going behind. He thinks it's important that the senior players play well and don't rely on the kids to do all the work. The win over Benfica was good for the spirit, and they now need to carry on.
2.06pm GMT14:06
What's worrying for Leicester isn't even today's result, but its cost. Evans' injury didn't look too bad, but Barnes might be absent for a while and already know Justin is done for the season. We don't yet know when Maddison will be back, though Fofana and Praet aren't far away which is something.
2.01pm GMT14:01
That's Leicester's sixth home defeat of the season, and they not only stay third but hand Chelsea a chance to close the gap and Man United a free hit at extending it. Arsenal, meanwhile, move up from 12th to ninth but more than that, drive home their midweek escape and will be feeling pretty good about life all of a sudden.
1.59pm GMT13:59
Full-time: Leicester City 1-3 Arsenal
That's a very good win for Arsenal, who responded well to going behind despite lacking their best players. Leicester, though, were a study in abjectivity.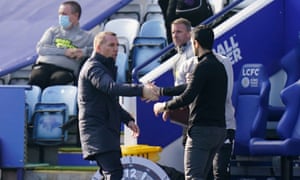 Updated at 2.03pm GMT
1.58pm GMT13:58
90+6 min Leicester win a corner down the left and Albrighton's delivery is a good one, Soyuncu knocking down for Iheanacho, past the back post. This is a really good chance because he's got loads of net at which to aim, but as he opens his body his head goes up and the ball goes well over. Eesh.
1.56pm GMT13:56
90+6 min Now it's Albrighton sending a decent ball into the box and Iheanacho peels away at the back post, but Xhaka, who's been solid today, blocks well.
1.55pm GMT13:55
90+4 min Castagne lays back for Under, who bends a very nice ball into the box, but Vardy was on his heels. That tells you everything you need to know about this Leicester performance.
1.54pm GMT13:54
90+4 min Tierney trips Vardy and is booked.
1.54pm GMT13:54
90+3 min Leicester have offered near enough nowt this half and Arsenal look more likely to score a fourth than they do a second; Partey again finds himself with a shooting opportunity, but Schmeichel collects.
1.53pm GMT13:53
90+2 min Aubameyang wriggles to the line and dinks a cross, but Schmeichel collects easily at the near post.
1.52pm GMT13:52
90 min There'll be seven additional minutes.
1.52pm GMT13:52
90 min Tierney chases after a bouncing ball and gets to it before Under, nodding away; he goes down clutching his forehead, but there didn't appear to be any contact.
1.50pm GMT13:50
90 min Keown gives Willian man of the match, with is fair enough – though I'd have gone for Pepe.
1.49pm GMT13:49
88 min Soyuncu leaps with Pepe, introducing knee to thigh right in the sweet spot. It looks a a right sair yin and Pepe goes down, but he'll be reet.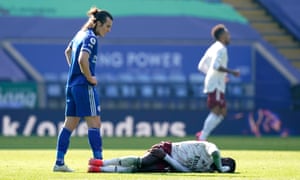 Updated at 1.53pm GMT
1.48pm GMT13:48
87 min Partey carries it forward – his ability to run with the ball is so helpful, and he's so much more than a holding midfielder – before finding Aubameyang, who shifts it inside onto his right foot and belts a low finish just past the far post.
1.47pm GMT13:47
85 min "A lot of players rolled up their shorts during 2018 World Cup," says Ruth Purdue. "Alexis was one I personally remember, as well as Cristiano for that free kick."
It reminds me of my school days, when the thing was pulling one's boxer shorts at the bottom of one's football shorts. I think that's what they were aping.
1.45pm GMT13:45
84 min Since Arsenal equalised, Leicester haven't even hinted at doing something about it. They look tired, and given their increasing injury-list, those not on it aren't getting much rest.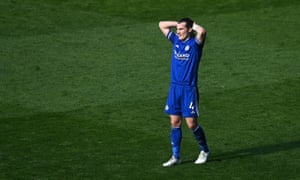 Updated at 1.49pm GMT
1.44pm GMT13:44
84 min Arteta sends on Aubameyang for Lacazette.
1.44pm GMT13:44
83 min Words they never thought they'd type: Willian and Pepe have both been pretty good today.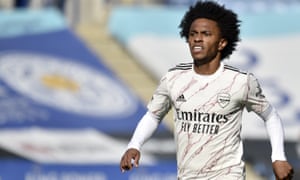 Updated at 1.47pm GMT
1.43pm GMT13:43
82 min He curls towards the near post, Amartey arriving first to stick the ball behind, so he'll have another go; this time he goes for the far, Schmeichel pawing away ... but straight to Tierney, who cuts across a very nifty-looking shot which zooms only just wide.
1.42pm GMT13:42
81 min Partey finds himself outside the box with time and space, so tries a shot which loops up off the nearest shins and behind for a corner. Odegaard will take it...
1.41pm GMT13:41
80 min Oh dear. Ricardo finds himself in a decent position outside the box and arcs a decent cross towards the far post, except none of his mates are anywhere near it and the ball drifts harmlessly behind.
1.40pm GMT13:40
79 min Under attacks Xhaka down the right, but Xhaka is strong and Arsenal bring it away, Pepe nicking a pass into Cedric, turning up inside the box. But instead of looking to shoot he tries to put studs on top of ball and misses it entirely.
1.39pm GMT13:39
77 min Hector Bellerin tucks his shirt in, advises Magnus Evander, while Ian Copestake wonders if he's been left out today because handsomeness alone does not win football matches.
1.37pm GMT13:37
75 min Xhaka is caught by Iheanacho's stray forearm and is extremely upset.
1.36pm GMT13:36
74 min Tielemans is booked for something we didn't see.
1.36pm GMT13:36
73 min Arsenal have been good today, the more aggressive and confident side. And they're keeping it well now too – they know it's over and so do Leicester.
1.34pm GMT13:34
71 min Vardy shifts it inside and opens a shooting lane, walloping a curler that clobbers Mari on the heed. Leicester's goal aside, he's played pretty well today.
1.33pm GMT13:33
71 min "Just to say, that magnificent Spurs team of the 80s were also lawless in the fashion," says Rosin Morris. "It wasn't just an untucked Hoddle but there was an oft-unrolled and apparently out of breath Tony Galvin bombing up and down the wing..."
I well remember – my dad was a big fan of him on account of his wingplay left-wing politics.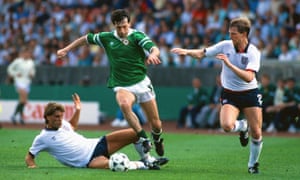 1.31pm GMT13:31
70 min Leicester send on Amartey for Evans, who looks to have hurt his leg. This is turning into an absolutely horrific afternoon for them.
1.30pm GMT13:30
68 min Back to the shirts/shorts interface, here's Ireland in 1994.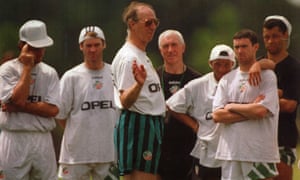 1.29pm GMT13:29
67 min This Leicester performance absolutely reeks of a "post-match clear-the-air team-meeting in which harsh words were exchanged".
1.27pm GMT13:27
66 min Just what Leicester wanted to see: Elneny is replaced by Partey, who's feeling his way back after injury.
1.26pm GMT13:26
65 min Iheanacho curves a decent pass in behind for Vardy to chase, but Mari does well to stay with him and come away with the ball.
1.26pm GMT13:26
64 min A lull in play. Take advantage by signing up for daily hilarity, or failing that, daily not hilarity.
1.24pm GMT13:24
63 min But here come Leicester, Iheanacho leaping to flick around Luiz while turning; that's nice, but Luiz reacts well, treading on the ball to take it away, and Elneny steps in to smother, winning a goalkick in the process.
1.23pm GMT13:23
62 min Leicester move it about as Arsenal invite them on, but without much conviction. I wonder if they need to have a think about the way they play, because although Vardy is brilliant on the counter, he doesn't look fit and they need to take control of games.
1.22pm GMT13:22
60 min "It used to be that you were risking a booking if you didn't tuck your shirt in - as page 11 of this riveting FIFA document makes a tidy appearance something that has to be reffed," emails Paul McGrory. "I remember Jack Charlton getting exercised about this at the 1994 World Cup as several pasty Irishmen were at death's door in the heat of the American summer."
Yes, I think the same applied to rolled-down socks.
1.20pm GMT13:20
58 min "Speaking of shirts tucked in and that picture of Glenn Hoddle," says Kristof Künssler-McIlwain, "when exactly did shorts get so much longer. You can't really call them shorts any longer. I'm not trying to objectify my players, but look at them thighs."
Glenn had tremendous pins, and I'd say the change came in the first season of the Premier League.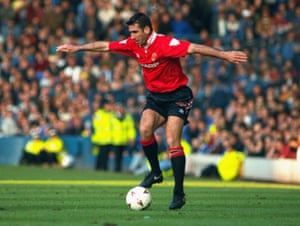 But not for all clubs.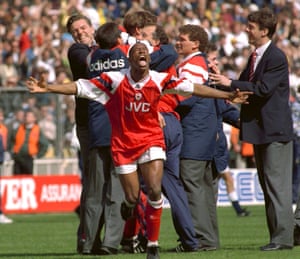 1.18pm GMT13:18
57 min This is shaping up to be a key week in Arsenal's season. The win in Benfica kept it alive, and a win here, without Saka and Aubameyang, will give them all sorts of confidence.
1.17pm GMT13:17
55 min Leicester win a corner down the left and Luiz is up high to head clear, hurting himself on the way down. I thought it was the way he landed, but seems to have taken a bash to the eye; he'll be ok.
1.16pm GMT13:16
54 min These have been a dreadful few minutes for Leicester. It's not at all easy to see how they come back from this, and it's all come about because they sat back after being handed the lead.
1.15pm GMT13:15
GOAL! Leicester City 1-3 Arsenal (Pepe 52)
Xhaka wins the ball and sets Pepe away, who moves it onto Odegaard. Just as it looks like the attack is breaking down, he finds a terrific poked pass between defenders that I think might be for Lacazette. But Willian, who's been good today, collects, and finds a route across the face of goal through Tielemans' legs, allowing Pepe to tuck in from under the bar! Well!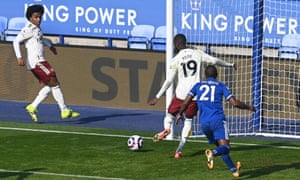 Updated at 2.12pm GMT
1.13pm GMT13:13
52 min Leicester's injury-list is increasing at the worst possible time. Under goes to the right, with Albrighton moving to the left.
1.12pm GMT13:12
51 min Cengiz Under comes on, and Willian flips over another decent ball, but Mari can't impart the necessary power to get a header on target.
1.11pm GMT13:11
49 min Oh dear. Barnes has an inflatable cast around his leg and is levered onto a stretcher. He doesn't look in terrible pain, but he's in trouble and carried off with hands over eyes. Godspeed, old mate.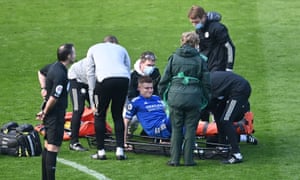 Updated at 1.14pm GMT
1.10pm GMT13:10
47 min Immediately, Leicester are pressing high up the pitch and with renewed zest but then Barnes stretches to collect a ball and his ankle seems to give way. I hate to say it, but I think that'll be his afternoon done; in the meantime, Arsenal win a corner.
Updated at 1.11pm GMT