Leeds United 4-3 Fulham, Blackburn 5-0 Wycombe: clockwatch – as it happened
Leeds were involved in their second 4-3 thriller in as many games but came out on top this time around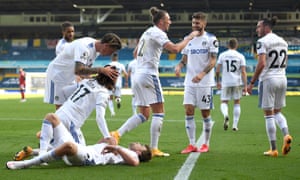 Key events
Show
5.03pm

BST

17:03

League Two results

5.02pm

BST

17:02

League One results

5.01pm

BST

17:01

Championship results

4.53pm

BST

16:53

Full-time: Leeds 4-3 Fulham

4.27pm

BST

16:27

GOAL! Leeds 4-3 Fulham (Mitrovic, 67)

4.22pm

BST

16:22

GOAL! Leeds 4-2 Fulham ( Decordova-Reid, 63)

4.17pm

BST

16:17

GOAL! Leeds 4-1 Fulham (Helder Costa, 57)
Live feed
Show
5.23pm BST17:23
Thank you very much for your company today. Here is Paul Wilson's report from Elland Road.
5.16pm BST17:16
The football has not finished here ... join Rob Smyth for Man United v Palace.
5.15pm BST17:15
Angel Gomes has made his Boavista debut alongside Manchester City legend Javi Garcia against Nacional. It is currently 2-2.
5.09pm BST17:09
Here is my interview with the next big thing in Serie A ...
5.08pm BST17:08
A decent finish ...
This week's most popular shots