Lakers vs. Nuggets score, takeaways: LeBron James, Anthony Davis dominate paint; L.A. role players step up
The Lakers shut down the momentum the Nuggets carried into Game 1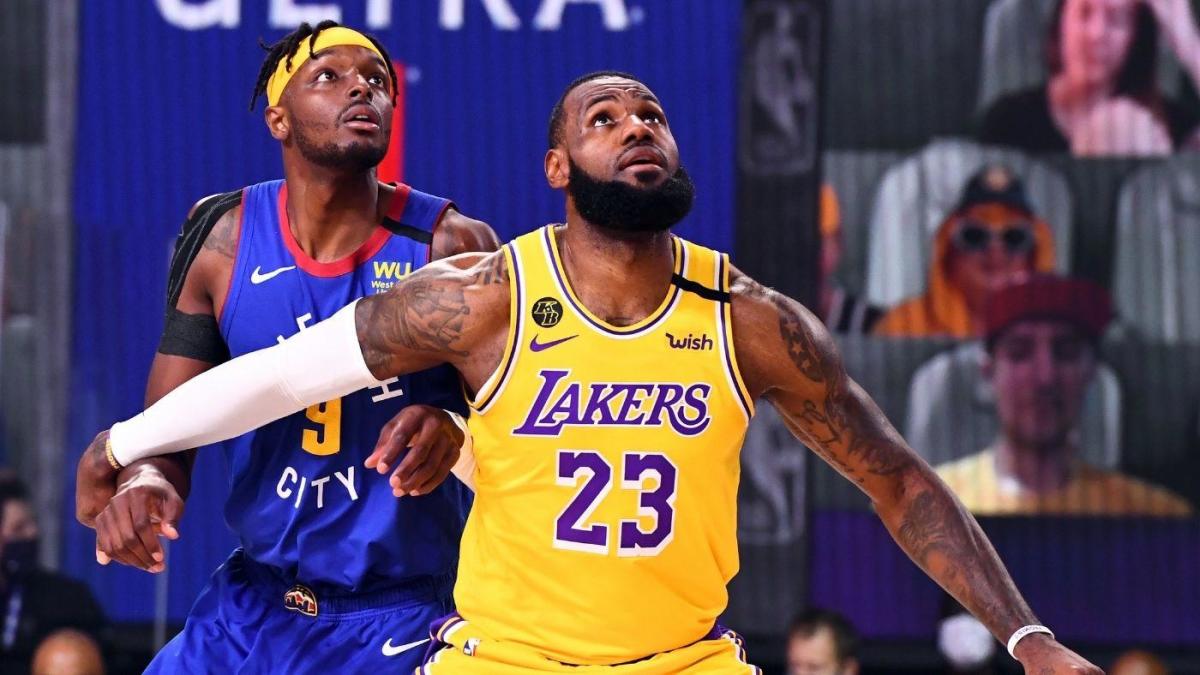 The Los Angeles Lakers are the presumptive NBA title favorite with the Clippers eliminated, and they certainly played like it in Friday's 126-114 Game 1 victory over the red-hot Denver Nuggets. LeBron James and Anthony Davis set the tone early, getting the Lakers out in transition and into the paint to create easy points. Rajon Rondo continued his stellar playoff performance with seven points and nine assists in 21 minutes, while Dwight Howard provided a huge boost off the bench with 13 points, three rebounds and two blocks after sitting for most of the Rockets series.
Davis was simply unstoppable, scoring 37 points on 12-for-21 shooting (12-for-15 from the free throw line) while pulling down 10 rebounds in 32 minutes. James orchestrated the offense all night long, finishing with 15 points, 12 assists and six rebounds in 30 minutes. Nikola Jokic and Jamal Murray led the Nuggets with 21 points apiece in the loss.
After a great first quarter, Denver never really got back into a rhythm due to early foul trouble for both Jokic and Murray. The Nuggets were outscored 34-21 in the second quarter, and they were never able to launch the second-half comeback we've grown so accustomed to seeing from them.
The Lakers will look to take a 2-0 lead in the series in Game 2 on Sunday. Below are four takeaways from Friday's game.
1. Lakers dominate the paint
Nuggets coach Michael Malone said leading up to Game 1 that the Nuggets would have to limit the Lakers in transition and keep them out of the paint -- they did neither. The Lakers ran roughshod over the Nuggets from the opening whistle en route to 54 points in the paint, with James and Davis meeting little resistance from Denver's interior defense.
It wasn't just James and Davis, either -- Howard consistently got baskets and picked up fouls around the rim, and Rondo's penetration led to open shots from Lakers' role players. Transition defense was also a problem, with Los Angeles running off of misses or makes, usually with positive results. The Lakers came into the game leading all postseason teams with nearly 50 points in the paint and over 23 transition points per game, while Denver entered allowing the fourth-most paint points, so it's no surprise what L.A. is trying to do.
"They are the best running team in the NBA, and that gave us some problems in that Clippers series, so we have to get back and make sure we're not allowing LeBron to go coast to coast and finding their shooters," Malone said on Thursday. "The second thing is defending the paint."  
Easier said than done, but Denver will really have to stifle the Lakers inside if they're going to have a shot in this series.
2. Role players on a roll
Anthony Davis was dominant. LeBron James was brilliant. The Nuggets can live with that, but they'll be in trouble if the Lakers get their supporting cast going the way they did on Friday. Kentavious Caldwell-Pope had 18 points, Howard had 13, Kyle Kuzma had 11, Markieff Morris had nine and Danny Green had eight. Part of the antidote is limiting the Lakers' transition and penetration, as mentioned above since that created some easy layups and wide-open looks for the role players throughout the game. Denver didn't play great defense in Game 1, but if Lakers not named Anthony Davis or LeBron James are going to play this well, it's going to be a short series.
3. Silver lining for Denver
The final score wasn't pretty, but there are a few positives that Denver can take away from the Game 1 loss. They played extremely well offensively in the first quarter before foul trouble reared its ugly head. The Nuggets scored 38 points in the first quarter with Jokic and Murray dominating their two-man game. Monte Morris provided some really good minutes during the second quarter, and Mason Plumlee played well in extended time off the Nuggets' bench. Denver was blown out in Game 1 of the Clippers series as well, so you better believe that there's not one person counting them out after this subpar performance.
4. Crying foul
Surely some Denver fans are crying conspiracy right now, and it was certainly disappointing to see one of the postseason's breakout players sidelined for a good chunk of the first half with foul trouble. You all know my thoughts on how foul outs should be eliminated (or at the very least raise the limit from six to 10), but since that's not happening any time soon, Jokic really needs to be careful about not picking up ticky-tack fouls. He got a couple of whistles battling for position down low and a couple more on offensive fouls, which just can't happen. By now Jokic clearly understands how essential he is to any Nuggets success, so he'll need to be more careful about not fouling moving forward.