LIVE: Edo Governorship Election 2020
LIVE: Edo Governorship Election 2020 CHANNELS TELEVISIONLive Updates: Edo Decides 2020 THISDAY NewspapersNigeria: Edo Election 2020 - the Countdown Begins AllAfrica - Top Africa NewsEdo 2020: Before You Cast That Vote Toda

The Edo State Governorship poll is the first major election being conducted in Nigeria since the coronavirus pandemic started at the beginning of the year. Among 14 candidates vying for the state's top political seat, the favourites include the incumbent, Godwin Obaseki of the Peoples Democratic Party, and candidate of the All Progressives Congress, Pastor Osagie Ize-Iyamu. See the latest update from the election below:
Report: Mixed reactions have trailed the ongoing electoral exercise in Edo state. While PDP Candidate has faulted INEC's card readers and crowd control, APC Candidate, Osagie Ize-Iyamu, says he has no complaints.
Read the full story here.
15:26 – Sorting of ballot has commenced at ward 5, unit 26, Iguododo, Orhiomwon LGA.
15:25 – Sorting and counting of ballot papers is now ongoing at Obaseki's polling unit – Polling Unit 19 Ward 4, Oredo LGA
15:23 – Police DIG Leye Oyebade rates security high in the Edo governorship election, in an interview with our reporter.
14:50 – Sorting and counting of ballots has begun at unit 1 ward 11 Jattu Etsako West LGA
14:10 – At Egor ward 9, there was a huge turnout of voters and the voting process was smooth and timely, our reporter, Osazee Obazee, says.
"It is interesting here because this polling center is out on a street, which doesn't happen often; in Benin City, polling centres are usually sited within a school compound."
13:20: 'Card Readers Were Very Slow': Shocked Obaseki Faults INEC
Edo State Governor, Godwin Obaseki on Saturday said he was "surprised" and "shocked" at the slowness of card readers, after he cast his vote in the Governorship poll being held in the state.
He said it is sad that such a glitch is being experienced after the Independent National Electoral Commission (INEC) had given assurances that such problems would be avoided.
Mr Obaseki is standing for re-election with the candidate of the APC, Osagie Ize-Iyamu his closest challenger.
12:51 – A police helicopter hovers around Unit 19, Ward 4, Oredo LGA, Edo State.
12:50 – A scene of a fracas between youths at Unit 19, Ward 4, Oredo LGA, Edo State.
Photos: Sodiq Adelakun
12:45 – Obaseki speaks after casting his vote.
12:30 – PDP deputy governorship candidate, Philip Shaibu has voted at Unit 5 Ward 11 Jattu, Etsako West LGA also in Edo North Senatorial District.
12:05 – Full Focus! A woman looks at election lists pasted on a wall up to vote in Benin-City.
12:00 – PDP Candidate, Godwin Obaseki, has cast his vote.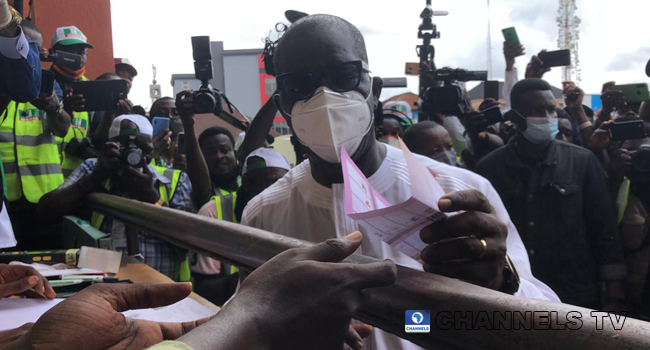 11:25 – Running mate to Pastor Osagie Ize-Iyamu, Gani Audu, just cast his ballot at unit 13, ward 7 Aviele, Etsako West LGA Edo North Senatorial District.
11:20 – Physical distancing? 
11:15 – PDP Candidate, Governor Godwin Obaseki, has arrived his polling unit. He is expected to vote at Unit 19, ward 4, Oredo local government area of the state
11:00 – Channels Television's correspondent, Jessica Ologbosere, provides an update on electoral activities in Etsako West LGA.
[embedded content]
10:45 – Earlier at a polling unit in Oredo local government, voters protested the unavailability of ballot boxes.
[embedded content]
Shortly after his arrival at the polling unit, Governor Godwin Obaseki and his wife washed their hands at the gate and joined the queue to cast their votes.#EdoDecides2020 #EdoDecides #CTVLiveTweets pic.twitter.com/882hOOQs13

— Channels Television (@channelstv) September 19, 2020
10:37 – "Ward 7 Aviele, Etsako West LGA remains peaceful," says our reporter Jessica Ologbosere. "No sign of violence. The security operatives; the police, NSCDC and others are standing around. Some soldiers drove in, stood around far from the crowd of voters, and then left."
9:47 – APC Candidate, Ize-Iyamu, has cast his vote.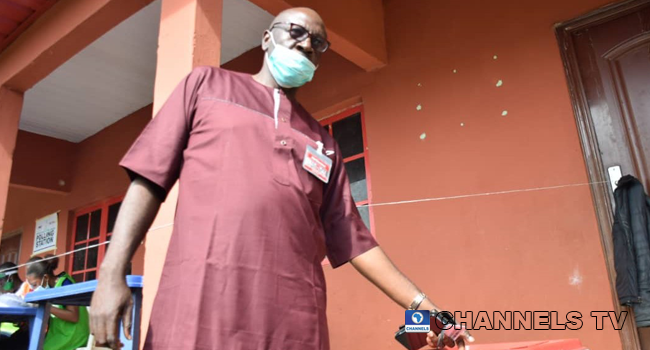 9:17 – Accreditation is yet to commence at Ward 7 Aviele, Etsako West LGA in Edo North Senatorial district
9:17 – Voting is now ongoing in Emokpae Ward 5, Polling Unit 2, Benin City.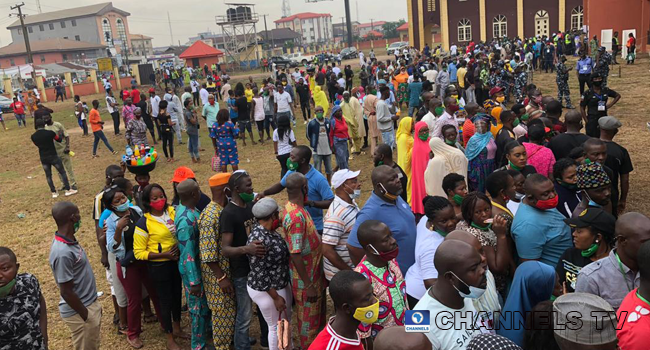 9:00 – Here are some voters at Ubhiole Primary school, Avuele in Etsako-West local government area. The deputy governorship candidate of the APC is expected to vote here. There are 3 polling unit – 13, 14, 15 – in this school.
8:30 – INEC officials have now arrived at Ward Five, Unit-26, In Iguododo, Orhiomwon Local Government where the APC candidate, Godwin Obaseki, is expected to vote. The crowd is ready.
8:01 – Edo state residents are obviously ready for the election. Some have been posing, with their voter's card, for Channels Television's photographer, Sodiq Adelakun.
7:56 – No INEC official is yet on the ground at Ward Five, Unit-26, In Iguododo, Orhiomwon Local Government where the APC candidate is expected to vote.
However, everywhere is calm with election observers and journalists hanging around.
7:20 – This is the first major election being conducted by INEC amid the pandemic and health guidelines such as hand-washing and temperature checks are being prioritized in some of the poll centres visited by our reporters.
Here are the full measures INEC is taking to keep voters and election officials safe during the exercise.
COVID-19: How INEC Plans To Keep Voters Safe During The Edo Election
7:05 – Despite the restriction of movement by the Inspector General of Police, our reporters saw some vehicles on the road, including commercial buses and taxi.
7:00 – Good morning. Electoral activities have already commenced in Edo state as INEC officers and ad-hoc staff have started to sort out materials before moving to poll units, where voting will take place.
Welcome to our Live Update page for the Edo governorship election.
Join us for the most comprehensive coverage of the polls on Saturday from 7 am.