Arsenal 0-0 Villarreal (1-2 agg): Europa League semi-final, second leg – as it happened
Minute-by-minute report: Arsenal trail 2-1 after the first leg. Join Paul Doyle to see if they can turn the tie around at the Emirates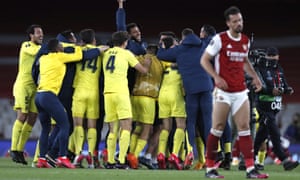 Key events
Show
10.24pm

BST

22:24

Arteta's reaction

9.56pm

BST

21:56

Full-time: Arsenal 0-0 Villarreal (agg: 1-2)

8.49pm

BST

20:49

Half-time: Arsenal 0-0 Villarreal (agg: 1-2)

7.56pm

BST

19:56

LATE TWIST

7.44pm

BST

19:44

An audience with Arteta ...

7.24pm

BST

19:24

Arsenal's formation

6.58pm

BST

18:58

Teams:
Live feed
Show
10.27pm BST22:27
Martin Keown on BT: "If we accept this as Arsenal fans and former players, then everything that has gone before wasn't worthwhile. Certain standards have been set at this club and they aren't being met."
10.24pm BST22:24
Arteta's reaction
"We are devastated, really disappointed but we have to congratulate Villarreal. ... I think we deserved to wi the game but the details ... When we had opportunities, we didn't score. In the final moments we had to have a better ball.
"[The injury to Xhaka in the warm-up] changed our game plan completely because we prepared everything with Granit in the position. But no excuses, it is what it is. So many player injured, one with malaria ... We were very imprecise with the ball. The process at the back wasn't clean and then everything is more difficult. Probably we were bit tense too ... But we created more chances than them over the two legs and deserved to win it."
Pressed for an explanation, he continues: "It was various things. The way we started wasn't good enough. Set-pieces. ... And we we didn't arrive here with everybody in top condition, to be at our best ... We had a really young team. For 90% of them it was the first semi-final in any competition."
Asked whether he feels under pressure, he replies: "I feel the pressure all the time because I want to do as good as I can for the time."
Updated at 10.25pm BST
10.09pm BST22:09
Speaking on BT, Martin Keown wonders whether Arsenal will persist with Arteta. "He was outsmarted by the previous manager, which is a bit of an embarrassment." Freddie Ljungberg says: "Something was wrong ... I felt like they didn't know what to do ... It felt very passive."
9.58pm BST21:58
This is a momentous day for Villarreal, who have never previously reached a European final. Yet they looked like old hands today compared to Arsenal, and even after losing one of their best players - Chukwueze - to injury in the first half. Arsenal looked timorous and clueless, a team of questionable character led by a novice manager.
Updated at 10.01pm BST
9.56pm BST21:56
Full-time: Arsenal 0-0 Villarreal (agg: 1-2)
Villareal will play Manchester United in the Europa League final. Unai Emery has done a number on Arsenal! It was a lamentable display by Mikel Arteta's team, who lacked gusto and cohesion for most of the match.
9.53pm BST21:53
90+3 min: Villarreal are managing the closing stages well. Arsenal can't work up anything close to a storm.
9.52pm BST21:52
90+2 min: A yellow card for Nketiah for bumping into an opponent just seconds after replacing Bellerin.
9.51pm BST21:51
90 min: There will be at least five more minutes ...
9.50pm BST21:50
Villarreal substitution: Alberto Moreno on, Pedraza off.
9.49pm BST21:49
90 min: Dainty work on the right by Pépé, who then picks out Bellerin at the edge of the six-yard box. Coquelin makes a terriffic block!
9.48pm BST21:48
89 min: Willian's cross. Lacazette fights for it in the box, then wins it and lays it back to Bellerin, who has a crack from 18 yards. One of the many yellow-clad men in front of him make a vital block.
9.47pm BST21:47
88 min: Williams scoots down the left but Albiol blocks his cross.
9.46pm BST21:46
87 min: Mari concedes a freekick for shunting Pino to the ground from behind. Pino tells the ref to book the Arsenal defender ... so the ref instead books Pino for not knowing his place.
9.45pm BST21:45
85 min: It was a heck of a call by Arteta to withdraw Aubameyang. Maybe it was a fitness concern, but Aubameyang had twice gone close to scoring even though Arsenal had struggled to get him involved. Lacazette hasn't been given much useful service yet either.
9.44pm BST21:44
84 min: Threatening cross from the left by Willian. The keeper comes for it ... but Torres evidently does't trust him so heads it behind for a corner.
9.43pm BST21:43
83 min: Beautiful turn by Moreno on the left. He carries the ball deep into Arsenal territory ... and then turns around and nudges it backwards, inviting his teammates to just keep possession.
9.41pm BST21:41
82 min: Arsenal have eight-plus minutes to save their season ...
9.40pm BST21:40
Arsenal substitutions: Willian and Lacazette on, Tierney and Aubameyang off.
9.39pm BST21:39
78 min: Bellerin collects a pass from Pepe and hurtles down the right on the counter-attack. He delivers an ideal cross. Aubameyang leaps brilliantly between two defenders and guides a downward header from seven yards .... against the inside of the post ... and out! Agonisingly close!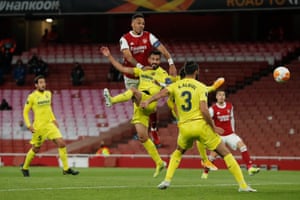 Updated at 9.49pm BST
9.37pm BST21:37
77 min: Martinelli runs on to the ball after it's only half-cleared from a corner. But he shanks his shot 10 yards wide.
9.36pm BST21:36
76 min: Arsenal are starting to play with more tempo, but that's making them even less precise.
9.35pm BST21:35
74 min: Arsenal plea for a penalty after Partey goes down in the box ... but the referee gives a freekick the other way, deciding that Pino poked the ball off the Ghanaian's foot before being kicked. The replay proves him right.
9.34pm BST21:34
73 min: That's better from Arsenal! Pepe fires in a dangerous cross. Holding gets a glancing header on it .... just wide from 12 yards! "A lull within a lull would certainly be called a 'lullapalooza', no?" quips Henry Zatarian.
9.31pm BST21:31
Villarreal substitution: Bacca on Alcacer off.
9.31pm BST21:31
71 min: Saka lures Coquelin into a foul. Arsenal have a freekick wide on the left, near the byline. Saka arrows it into the area. Holding jumps to meet it eight yards out, but his header wafts over the bar.
9.29pm BST21:29
69 min: Leno misfields a backpass but recovers sufficiently to smash the ball into touch. But this is not the end where Arsenal want to be playing.
9.28pm BST21:28
68 min: Arteta runs to retrieve the ball after it goes out of play. If only he could inspire his players to show similar urgency.
9.25pm BST21:25
Arsenal substitution: Martinelli on. Odegaard off.
9.25pm BST21:25
65 min: Villarreal are growing in menace. They pop the ball about in the Arsenal half with a much better tempo than Arsenal have mustered. They win a corner, which is headed clear.
9.23pm BST21:23
64 min: Villarreal stroke the ball around at the back, under no pressure whatsoever.
9.22pm BST21:22
63 min: Play has resumed, I think. It's hard to tell, to be fair.
9.21pm BST21:21
61 min: What do you call a lull in a lull? Well, there's one here, because the ref has stopped play to allow treatment for Mari.
9.18pm BST21:18
58 min: Leno dives to his right to push a low cross by Pino behind for a corner.
9.17pm BST21:17
58 min: The vim Arsenal showed early in the second half seems to have faded. Villarreal are enjoying a spot of keep-ball.
9.16pm BST21:16
56 min: Partey picks out Smith Rowe with a fine long pass. The youngster tries to take it on the half-turn and spin his way past the last defender, but said defender is too canny for him.
9.13pm BST21:13
53 min: A mistake by Partey opens the door for Villarreal. But Moreno fails to connect properly with his shot from the edge of the area, leaving Leno with a comfortable save.
9.11pm BST21:11
52 min: A pause in play as Pepé and Gaspar receive treatment after clashing heads.
9.10pm BST21:10
50 min: Partey sends Bellerin scampering down the right. The full-backs hoists over a high cross. The keeper flaps at it, dabbing it down to Smith Rowe about eight yards out. Smith Rowe chips it over the floundering keeper ... and just wide of the far post! If taht doesn't incite Arsenal to attack more - and test this ropey-looking keeper more - then they are beyond hope.
9.07pm BST21:07
47 min: Tierney collects the ball from Odegaard and then scoops it over two defenders and into the path of Pepe. The Ivorian whacks the bouncing ball from 12 yards out, to the left. It swerves just wide of the far post.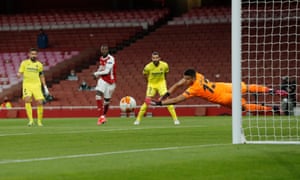 Updated at 9.13pm BST
9.05pm BST21:05
46 min: Arteta decides no personnel changes are needed just yet. Arsenal kick off. In other news, I just spilt tea on my damn foot. Foot! Footing foot! Foooooot!
9.01pm BST21:01
"Absolute waste of time, this match," snorts John Ryan. "Villarreal clinging on and Arsenal not good enough; would be a miracle if both teams scored, first one to score goes through." And, of course, if no one scores, Villarreal go through. That first half's got me wondering whether Arsenal actually know that.
8.49pm BST20:49
Half-time: Arsenal 0-0 Villarreal (agg: 1-2)
That was a non-event of a first-half. Villarreal were barely ruffled. Arsenal were too ponderous and too imprecise to pull the visitors out of shape. And they themselves are amorphous and incoherent. Does Arteta have a hairdryer? A better plan? Carry on like this and his team are going out with a whimper.
Updated at 8.58pm BST
8.48pm BST20:48
45+2 min: Odegaard delivers an outswinging corner. But some Arsenal player commits a foul, gifting the Spaniards a freekick.
8.46pm BST20:46
45 min: Arsenal will have at least three more minutes to wake up before going into the dressing room for a cold shower at half-time.
8.44pm BST20:44
43 min: Awful cross by Saka after a decent move on the counter from Arsenal!
8.42pm BST20:42
41 min: Villarreal exert some pressure, winning two corners in quick succession. The second is cleared for a throw-in, which the visitors are in no rush to take. When they do so, they give the ball away.
8.40pm BST20:40
39 min: That was nearly the critical mistake! First, Smith Rowe attacked like he really meant it, driving through midfield before spreading the ball wide to Aubameyang on the left. The Gabon international unleashed a right-footed curler from the left-hand corner of the box. It should have been an easy stop for the keeper ... but he fumbled up it! But he had time to leap backwards and pounce on it before any Arsenal player could punish him.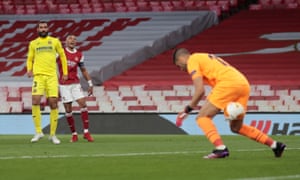 Updated at 8.48pm BST
8.38pm BST20:38
38 min: Arsenal lob a long freekick towards Mari in the box. It skins the top of his head before drifting way wide.
8.37pm BST20:37
35 min: Arsenal don't need to win this match in the first half .... but at some point they're going to have to summon more urgency if they're to inconvenience Villarreal. The way things are looking at the moment, it's going to take a mistake by the visitors to let Arsenal in.
8.34pm BST20:34
33 min: A moment of discomfort in the Arsenal box as Villarreal break with speed. Torres- the visiting centreback, if you please, would have had a clear shot on goal from 16 yards if the pass to him had not been overhit.